On 6 September the Executive Board of the International Association of Permanent Representatives to the United Nations elected Ambassador Katalin Bogyay, Permanent Representative of Hungary to the UN as the new president of the IAPR, on the nomination of H.E. Mr. Abdallah Y. Al-Mouallimi, Permanent Representative of Saudi Arabia.
---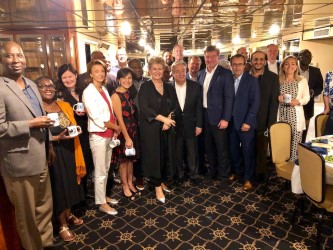 The Association was founded in 1988 in New York by thirteen Permanent Representatives including Hungary: Argentina, the Bahamas, China, France, Hungary, India, Malaysia, Norway, Saudi Arabia, Senegal, Tunisia, Venezuela and Zambia.
The purposes of Association are to serve as a forum between former and active Permanent Representatives to the United Nations, to maintain communication between them and to serve as a focal point for their involvement in the activities of various international institutions and fora.
Ambassador Bogyay was inaugurated as president on the traditional IAPR dinner cruise in the presence of H.E. Mr. António Guterres, Secretary General of the UN and H.E. Mr. Miroslav Lajčák President of the General Assembly of the UN.