On June 25, 2018, the UN General Assembly held a successful formal debate on the Responsibility to Protect (R2P) entitled "Responsibility to Protect and the Prevention of Genocide, War Crimes, Ethnic Cleansing and Crimes Against Humanity". The formal debate organized for the first time after 2009 addressed the UN Secretary-General's tenth annual report on R2P, entitled "From Early Warning to Early Action"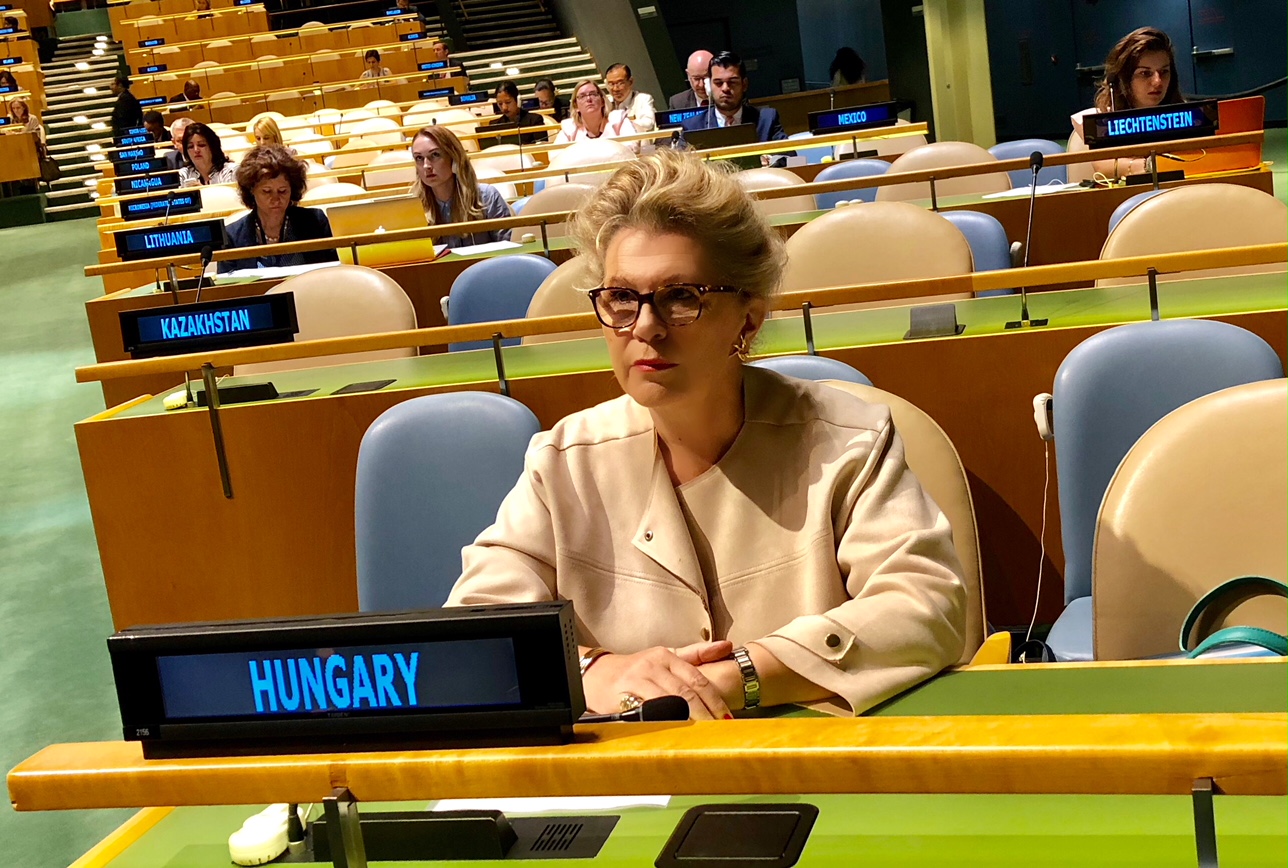 In her statement, H.E. Ambassador Katalin Bogyay welcomed the new report of the Secretary General entitled "Responsibility to Protect: From Early Warning to Early Action" and the three-fold strategy for strengthening early action outlined in it. Hungary highly appreciates that after nine years, the principle of Responsibility to Protect (R2P) was accorded its rightful place on the agenda of the UN General Assembly.
As an active member of the Group of Friends of R2P, Hungary is fully dedicated to raise awareness on the issue at national and international level. We support the work of the Budapest Center for International Prevention of Genocide and Mass Atrocity that will host a workshop on "Preventing Radicalization in Practice" on June 26th aiming at raising awareness among the security sector in Hungary on the challenges posed by polarization and radicalization.
We share the growing concerns of the Secretary General about the increased number of victims of atrocity crimes. This is why we have to strengthen the UN's response by implementing specific measures to improve internal UN coordination in the area of R2P. Hungary has taken action in the implementation of R2P by legislation, education, commemoration, and a zero tolerance policy. H.E. Ambassador Bogyay stressed that actions should be taken not only on national, but on the international level as well. Therefore, we support the work of the International, Impartial and Independent Mechanism (IIIM), which assists the investigation and prosecution of the most serious crimes, thus the Hungarian Government decided to make voluntary contributions both in 2017 and in 2018, for its functioning.
Ambassador Bogyay emphasized the importance of accountability. As an active member of the Accountability, Coherence and Transparency Group (ACT) we advocate for refraining voluntarily from the use of veto in case of mass atrocities and we encourage all Member States who have not done so yet to sign the Code of Conduct.
At the end of her speech, H.E. Ambassador Bogyay emphasized that our eventual goal should be to ensure peaceful and secure living conditions for everyone in their homelands without any possibility of being victim of atrocity crimes.
Click here to read the remarks of Ambassador Bogyay.