On 12 July 2017, H.E. Ambassador Katalin Bogyay, Permanent Representative of Hungary to the United Nations hosted a Salon d'Été with world-renowned Hungarian mezzo-soprano, Ms. Andrea Meláth. Held in the presence of H.E. Mr Peter Thomson, President of the General Assembly, the exclusive event celebrated Women in their numerous roles of life, bringing the voice of powerful female characters from the most beautiful songs and operas of history. The evening was also a special commemoration of Hungarian composer and ethnomusicologist Zoltán Kodály and his groundbreaking oeuvre.
---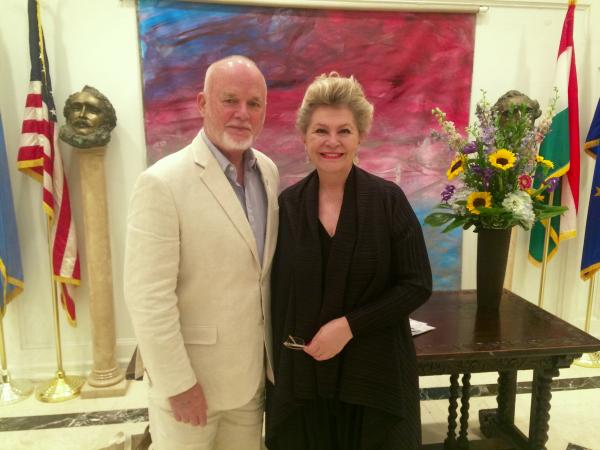 The Salon, organized as part of the "Meet the Women" initiative of the Hungarian Mission, was an excellent opportunity to present an exceptional artist, opera mezzo-soprano Andrea Meláth, soloist of the Hungarian State Opera and Head of the Opera Department of the Liszt Academy of Music, accompanied by Hungarian pianist Imre Pátkai.
Guests of the full-house event enjoyed a selection of world famous arias by Strauss, Vivaldi, Bizet, Donizetti and Gershwin, presenting the timeless struggles, aspirations and dreams of memorable opera characters, thus showing the multitude of faces of the Woman.
The program was complete with songs by Hungarian composer Zoltán Kodály, inspired by the rich Hungarian folk song tradition. Kodály was not only a pioneer in collecting, analyzing folk songs, and making them part of the national curricula; he is also remembered as the founding father of the so-called Kodály Method, a method for early music education, now used worldwide, recognized by UNESCO as a universal Intangible Cultural Heritage. The Hungarian Government devotes this year to the memory of Kodály, on the 50th anniversary of his passing away.
The event also marked the end of the 1956 Hungarian Revolution Commemorative Year, a period of rich activities held by the Hungarian Mission at and outside the UN. On this special occasion, Ambassador Bogyay presented the Statue "A Cry for Freedom" to President of the General Assembly H.E. Mr. Peter Thomson, thanking him the excellent cooperation throughout the past year. The Statue stands as a symbol of aspiration to peace and a reminder that freedom can never be taken for granted.
The Salon is organised regularly as part of the series "Dialogue through Art and Music", initiated by Ambassador Bogyay to bring together the world of the UN and a distinguished social ad artistic sphere of New York. This time, the Soirée was attended by UN ambassadors, high-level UN representatives, and prominent artists and philanthropists.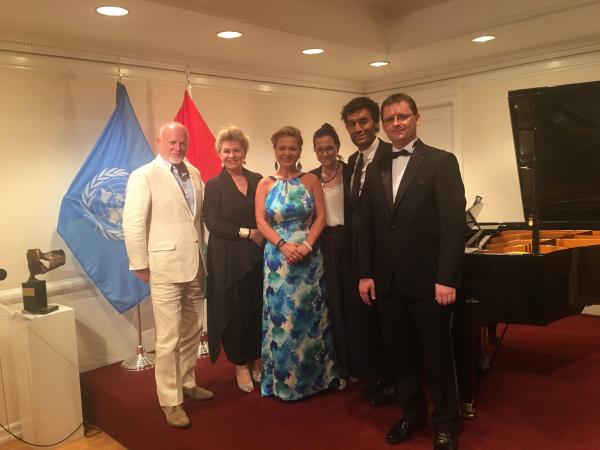 To see the photo diary of the event, please click here.
To see Ambassador Bogyay presenting the Statue, "A cry for freedom", to H.E. Peter Thompson, President of the General Assembly at the Salon d'Éte, please click here.