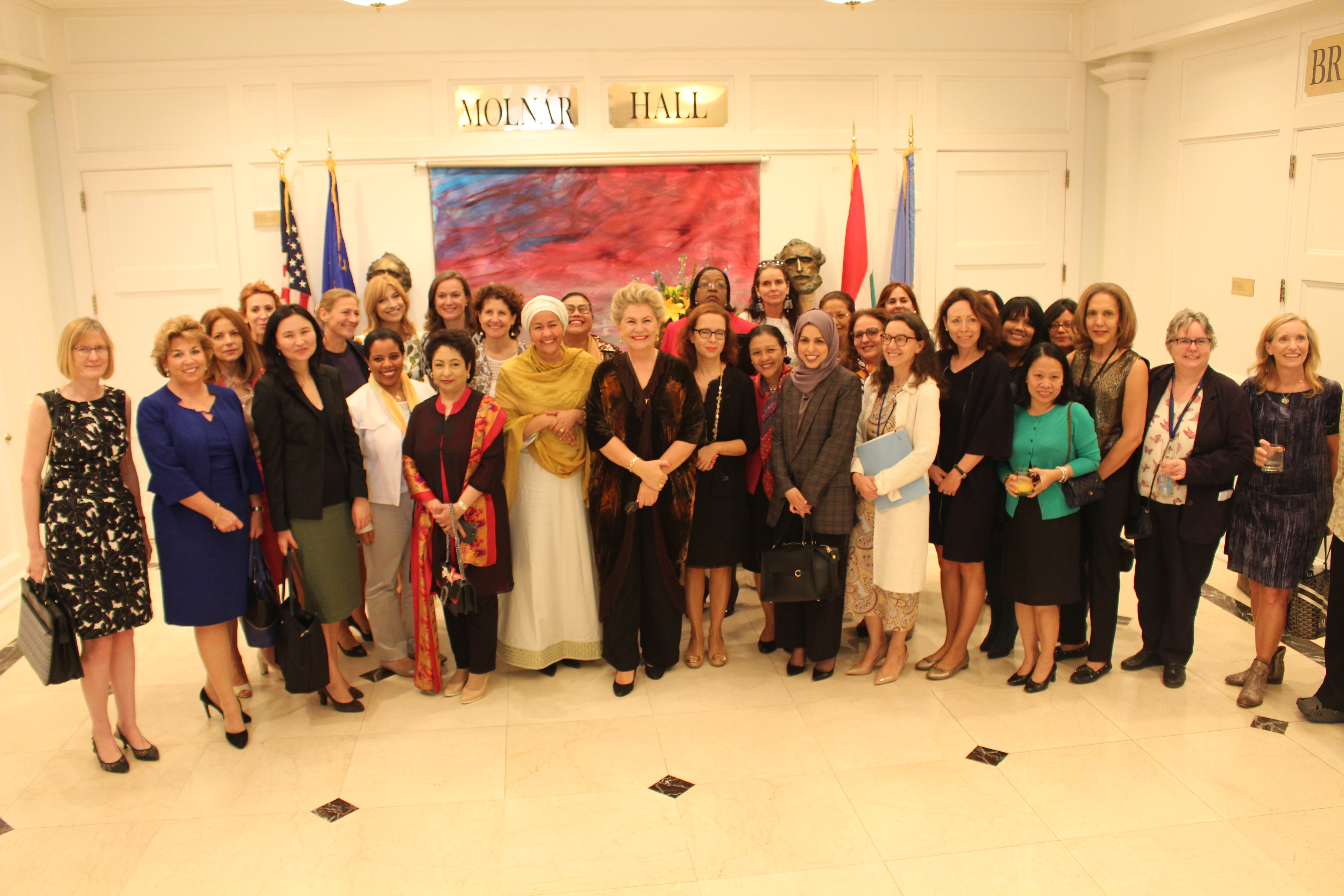 Addressing a large audience of women Permanent Representatives, Ambassadors, and distinguished women leaders of the UN, Ambassador Bogyay highlighted the special role that women and women Ambassadors could play in addressing the challenges high on the UN Agenda.
Deputy-Secretary-General Amina Mohammed, reminding the audience that "a plane cannot fly with one wing", reflected on the key importance of women's participation in the implementation of Agenda 2030, as  well as the work of the UN. She gave account of the latest Quadrennial Comprehensive Policy Review, and highlighted the support of Member States that was vital in the success of the process. She underlined the importance of gender parity and the fight against sexual and gender-based violence, and recognized the European Union's Spotlight Initiative in this field.
Senior Adviser Ana María Menéndez drew attention to the progress on the commitments made by Secretary General António Guterres in bringing gender parity to the UN system, and outlined the specific and tangible roadmap set out in the UN System-Wide Strategic Plan on Gender Parity.
Karen Van Vlierberge, Deputy Permanent Representative of the Permanent Mission of Belgium to the UN, presented the initiative WILD, a mentoring program bringing together women - senior and junior diplomats and colleagues of the permanent missions as well as the UN secretariat - for an exchange of experiences and support. Ambassador of Panama Laura Elena Flores Herrera talked about the Gender Parity and Gender Champions initiative; Ambassador of the Commonwealth of Dominica Loreen Ruth Bannis-Roberts gave an insight on the devastating effects of Hurricane Maria and requested help from Member States to support the efforts of reconstruction.
The interventions were followed by an interactive discussion, where several distinguished particiipants took the floor, including Lakshmi Puri, Deputy Executive Director of UN-Women; H.E. Ms. Geraldine Byrne Nason, Ambassador, Permanent Representative of Ireland, Chair of the 62nd Session of the Commission on the Status of Women; H.E. Ms. Mary Elizabeth Flores, Ambassador, Permanent Representative of Honduras, President of the International Association of Permanent Representatives; H.E. Ms. May-Elin Stener, Deputy Permanent Representative of Norway, announcing the forthcoming publication of the Gender Index, elaborated by the Georgetown University and the Peace Research Institute Oslo; and H.E. Ms. Joanne Adamson,  Deputy Permanent Representative of the Delegation of the European Union, thanking the Deputy-Secretary-General's words on the outstanding EU Spotlight Initiative.
The Circle of Women Ambassadors is a series of events hosted by the Hungarian Mission, giving an opportunity for women Permanent Representatives and Ambassadors to get together and talk about issues that are high on the UN Agenda.
To take a look at the photo gallery of the event click here.
Click here to watch the speeches of H.E. Ambassador Katalin Bogyay and Deputy-Secretary-General Amina Mohamed.
Watch the speech of H.E. Ambassador Bannis-Roberts of Dominica to the UN and the video "Insight to the Devastation by Hurricane Maria".