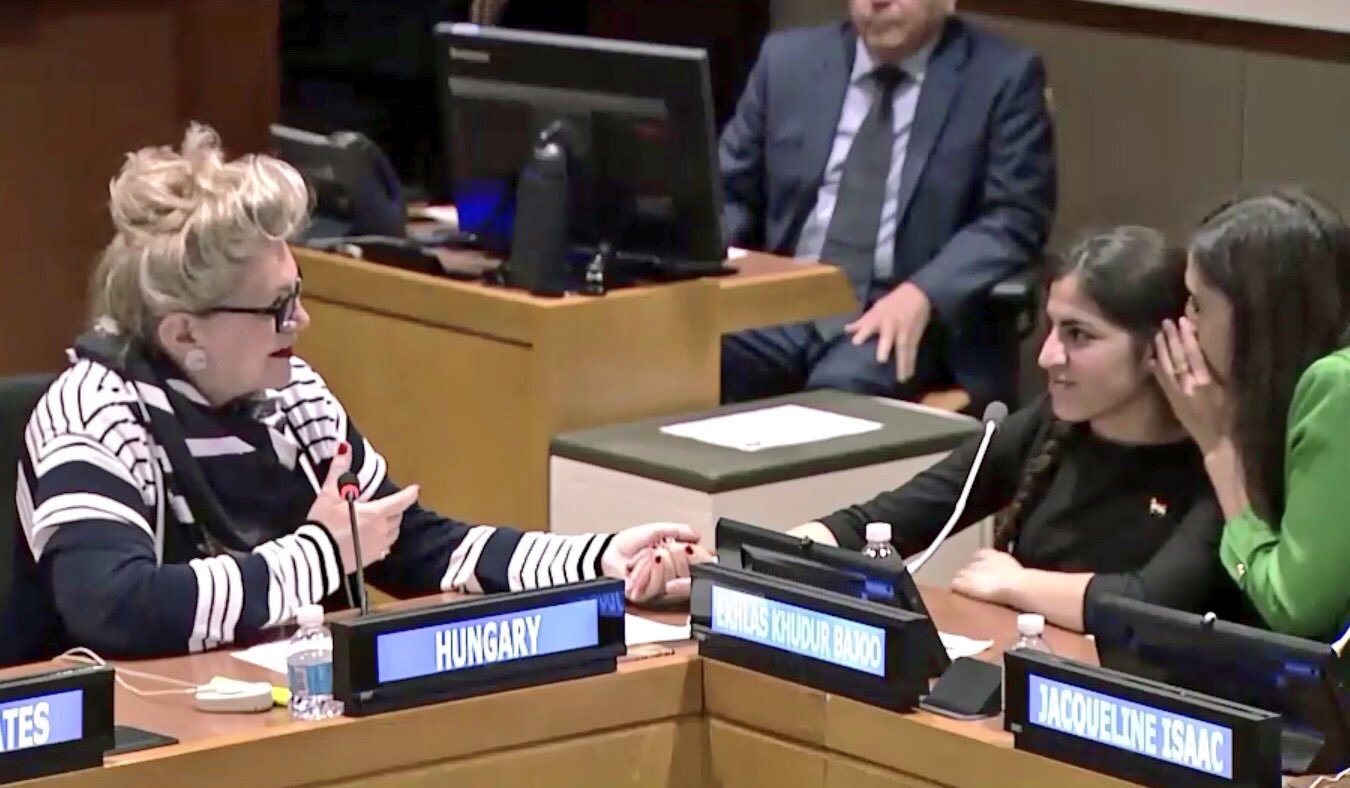 The Permanent Observer Mission of the Holy See to the UN, together with the NGO Committee on Freedom of Religion and Belief and the humanitarian organisation Roads of Success organized a conference on the plight of Daesh suffered by victims, and especially minorities, and on possible ways forward to provide accountability, reconstruction and return.
As a panelist, H.E. Ambassador Katalin Annamária Bogyay presented Hungary Helps, a comprehensive and ambitious humanitarian and development program aimed at helping communities restart their lives on their homeland.
Speakers of the conference included Permanent Representatives and Ambassadors, victims of atrocities committed by Da'esh, non-governmental and humanitarian organisations.
In his welcoming remarks, H.E. Archbishop Auza gave an overview of the complexity of challenges: besides providing for the immediate needs of survivors of violence, there is a necessity to elaborate a long-term plan to protect and maintain the cultural and religious diversity of those regions struck by the plight of Da'esh. Dr. Nazir Ismet Taib, Regional Director of Health in Iraq, gave a shocking insight into the everyday suffering of victims and the medical and psychological assistance provided. Ms. Ekhlas Bajoo, a Yazidi victim and Mr. Gaby N., a Syrian Christian victim gave account of the horrendous crimes endured during their time in Da'esh captivity, and called on the international community to step up against the ongoing violence. H.E. Ambassador Mohammed Hussein Bahr Aluloom of Iraq, H.E. Ambassador Jonathan Guy Allen of the UK and H.E. Ambassador Kelley Currie of the US highlighted efforts made in and beyond the framework of the UN to achieve accountability, stability and reconstruction in war-torn Iraq and Syria. Mr. Michael Farris from ADF International and Mr. Edward Clancy from the Aid to the Church in Need presented their efforts in assisting victims and communities.
In her intervention, Ambassador Bogyay talked about Hungary's policies aimed at justice, reconciliation, resconstruction and sustainable peace. She underlined the need to rebuild the lives of the survivors, and presented Hungary Helps, a comprehensive program aimed at providing responsible, sustainable assistance to communities helping them stay and return to their homes. Hungary reconstructs homes, churches, schools and provides medical supply, among others. Moreover, the "Stipendium Hungaricum" scholarship program provides for higher education for more than six thousand students from 54 countries, including those affected by conflict. The Ambassador highlighted the importance of protecting the multi-ethnic, multi-confessional character of the region.
To read the full statement of H.E. Ambassador Bogyay click here. 
​