H.E. Ambassador Katalin Annamária Bogyay, Permanent Representative of Hungary to the UN was the lead panelist at the session of the ECOSOC Multi-stakeholder Forum on Science, Technology and Innovation on Sustainable management of water and sanitation for all (SDG 6) on 5 June 2018 co-chaired by Mexico and Japan. Ambassador Bogyay gave an overview of the findings of the High Level Panel on Water by the UN Secretary General and the World Bank president, launched at the World Water Forum in March.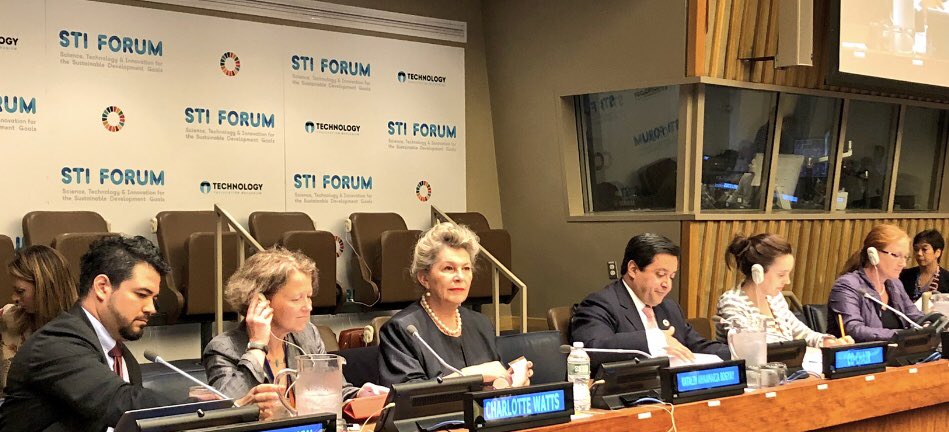 The UN Secretary General and the World Bank President convened the High Level Panel on Water in April 2016 to provide leadership in tackling one of the world's most pressing challenges: an approaching global water crises. Under the co-chairmanship of Mexico and Mauritius, 11 sitting Heads of State and Government and a Special Advisor issued an Action Plan during the UN General Assembly in September 2016, which called for a fundamental shift in the way the world currently looks at and manages water.
In the past two years, the Panel members have explored how the Plan can be implemented. They took initiatives to lead by example and summarized their findings and recommendations in the report entitled "Making every drop count", which was presented in Brasilia at the World Water Forum by Hungary's President, H.E. Mr János Áder as a member in March this year.
The report recommends progress in innovation, increase financing, promote partnerships, enhance global and international water cooperation, as well as seizing the opportunity of the Water for Sustainable Development Decade 2018-2028.
The Panel's main findings in technology and innovation is to bring together entrepreneurs, new ideas, and flexible financing to accelerate innovation by encouraging coordination and investment. With regards to sanitation, the Panel called on governments to mainstream WASH in national, subnational and community level planning along with review processes and innovative financial strategies with the aim of addressing gaps in service delivery models, technology and behavior change, by giving special attention to the needs of women, girls, communities in vulnerable situations, and people with disabilities.  
H.E. Ambassador Bogyay shared her own experience from the Budapest Water Summits and as Steering Committee member from the World Science Forum, where she led the thematic session on "Women as Leaders for Diversity and Development" in November 2017 in Jordan as moderator.
Click here to read the speech of H.E. Ambassador Katalin Annamária Bogyay, Permanent Representative of Hungary.